Eyelash Extensions
Novalash Eyelash Extensions
NovaLash eyelash extensions are an instant, beautiful transformation for any woman who desires longer, fuller lashes. These extensions are meticulously applied lash-by-lash, bonded with award-winning medical-grade adhesive. They are weightless and very natural looking.
Eyelash extensions are for someone who
wants to save time getting ready for the day
hates dealing with the application and "afternoon smudge" of mascara
maintains an active life style and doesn't have time for make up (but still wants to look beautiful in the process)
desires to just wake up looking like they do in the movies…
How it works
First, we will discuss what kind of look you want for your lashes. This will help to determine what size lashes are best for you. I use a combination of three to four different sizes to maintain a natural look.
Then, we begin the process by protecting your bottom lashes with a gentle medical tape and soothing gel eye pads. Your eyes will remain comfortably closed while I begin adhering one lash at a time to each of your individual lashes. The process is relaxing and most of my clients fall asleep.
Finally, I make sure all your lashes are separated and not stuck together. This is a very important step! This will ensure that your lashes may be free to grow and shed naturally. The lash extensions will shed along with your natural lashes. When you have new lash growth, it's time to come in for a touch up.
NEW! Introducing American Volume lash extensions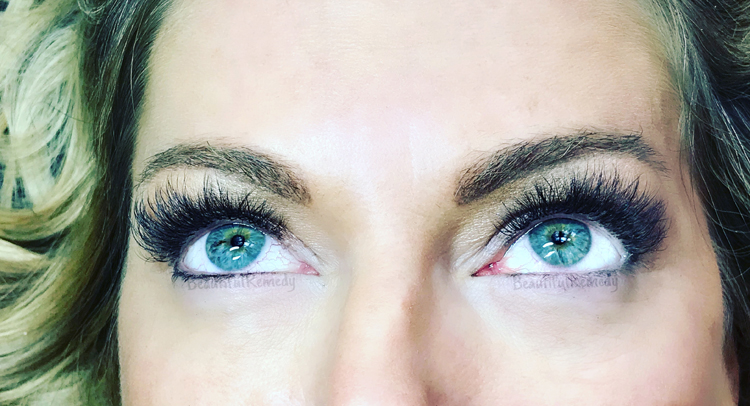 What is American Volume?
American Volume is a technique that uses 2-6 lashes to make a fan. This technique also uses a mixture of different sizes to create a natural look and give your lashes depth so when your lashes shed naturally, you won't have big gaps. Volume lashes are extremely lightweight, so they will never cause harm to your natural lash because they have the same weight as a classic single lash.
Fanned lashes also last longer because the fans create a wrap-around effect on the natural lash causing the hold to be stronger.
With the volume technique, less glue is used so there may be less irritation during application.
American Volume lashes are the newest lash extension technique. The're stunningly beautiful and give your lashes a more full and fluffy look.
Initial appointment
FULL SET OF TOP LASHES | 2 HOURS | $195
FULL SET VOLUME LASHES | 2 HOURS, 15 MINUTES | $250
A full set includes a take home after-care kit and $10 off your first fill.
*A full set appointment requires a deposit. Please see Beautiful Remedy POLICIES for more details.
Touch-up lash fill appointments
FULL CLASSIC FILL | 1 HOUR | $75
GLAM FILL | 90 MINUTES | $95
VOLUME FILL | 1 HOUR, 15 MINUTES | $95
VOLUME/CLASSIC HYBRID FILL | 1 HOUR | $85
*please arrive to your lash appointment with very clean eyes (no makeup).
An extra cost of $20 will be added to your service if makeup removal is required.
Need to know & caution:
In some cases, a reaction to the Novalash adhesive may occur. Some people are not a candidate for eyelash extensions for this reason. If your eyes are prone to being sensitive or you have had reactions to personal care products/makeup in the past, you may need a spot test at least two days before application.
Refunds:
I strive to provide you with the very best lash results depending on your personal preference. My desire is for you to be completely happy with your new lashes. There are NO REFUNDS for the eyelash extension service. If for some reason, your expectations are not met or you experience a reaction, I offer full removal of your lash extensions for free.
Remember, during a follow-up lash fill, we can adjust the length and fullness that you desire, so please let me know if you want to have them longer, shorter, fuller, or less full at your next appointment. We can customize them to fit your needs. That's the beauty of eyelash extensions!